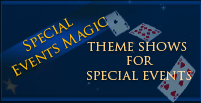 Vancouver Canucks Invite Yeeri To Perform at GM Place
Read more »
CIBC Engages Vancouver Magician Yeeri For a Series of Grand Openings Of Their New Bank Branches
Read more »
Vancouver Celebrity Magician Performs For NBA Superstar Steve Nash
Read more »
The Secret to Making Your Event Unforgettable!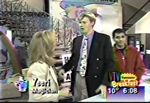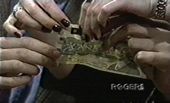 If you are looking for a more formal show as a part of your after-dinner entertainment, then the Corporate Silver Package is for you. This 40-minute comedy magic show is the same one that Vancouver Magician Yeeri performs in resorts such as Club Med, on television and aboard luxurious cruise ships. This magic show is an excellent choice for any corporate or private party.
Not only will you be amazed by unbelievable mind reading and predictions of future events, but in this high-energy and laughter filled magic show, you will see how entertaining magic can be when combined with comedy. Watch as things appear and disappear right before your eyes!

Interaction with the audience is a big part of this show. Vancouver Magician Yeeri randomly picks volunteers from the audience to help him with different magic tricks. Kids receive a cool balloon sculpture as a prize for helping Yeeri out and adults get a prize that is much more valuable - they get their watches back!
In one of Yeeri's signature tricks, he visibly burns a spectator's $20 dollar bill which later magically reappears inside a piece of fruit, leaving the audience speechless.
When you hear the laughter and applause of your guests, you will be able to take credit for organizing a truly unforgettable event. Please inquire about the possibility of customizing this show by incorporating your company product(s) into the performance.
For more information about the corporate silver package please contact Vancouver magician Yeeri at 604-306-6229 or send an email.