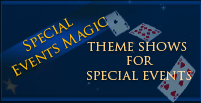 Vancouver Canucks Invite Yeeri To Perform at GM Place
Read more »
CIBC Engages Vancouver Magician Yeeri For a Series of Grand Openings Of Their New Bank Branches
Read more »
Vancouver Celebrity Magician Performs For NBA Superstar Steve Nash
Read more »
Get Ready For Mind Blowing
Walk Around Magic



People love to see magic when it happens right before their very eyes. Yeeri's walk around magic consists of 3 to 5 minutes of interactive magic presentations for individuals while they are sitting or standing. Your guests will be delighted and amazed by one of Vancouver's finest close-up magic performances.
In Yeeri's hands, borrowed dollar bills change denominations or levitate; the card selected by the spectator gets stuck to the ceiling; borrowed rings disappear and reappear locked inside of Yeeri's zippered key chain; objects mysteriously travel from Yeeri's hand to the spectator's hand. The spectator picks a card and then places it back into the deck. While concentrating on that card and with the deck in their hand, the selected card rises out of the deck by itself! These are just a few amazing feats that will leave your guests impressed and dazzled. Vancouver Magician Yeeri also awards his helpers in a very unique way...they get their watches back!
Yeeri's amazing sleight of hand combined with his pleasant personality and his sense of humor will create a unique experience that will be remembered for a long time. Close up magic is an excellent entertainment for grand openings, boat cruises, cocktail hours and other corporate events.
For more information about the corporate bronze package please contact Vancouver magician Yeeri at 604-306-6229 or send an email.