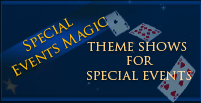 Vancouver Canucks Invite Yeeri To Perform at GM Place
Read more »
CIBC Engages Vancouver Magician Yeeri For a Series of Grand Openings Of Their New Bank Branches
Read more »
Vancouver Celebrity Magician Performs For NBA Superstar Steve Nash
Read more »
Grand Illusion Show
Yeeri's Grand illusion show is an excellent entertainment choice for larger audiences such as those found at conventions, ceremony award nights, fundraisers and on cruise ships. This 'Vegas style' show comes complete with a cast of professional dancers and features magic & illusions on a grand scale. All segments of the show are very visual.
People appear out of shadows that Yeeri creates; his assistant stays suspended in midair or disappears without a trace. These and many other mind-boggling illusions are performed to upbeat music and involve slick choreography, making the performance even more impressive. Of course, like all of Yeeri's performances, audience participation and comedy are well represented.
To put it simply, this show is the cream of the crop. One of the features of this show is a giant 8-foot video screen that allows the audience to perfectly see the close up magic that Yeeri performs on stage.
The Grand illusion show includes a cast of professional dancers, technicians, sound & lighting system with special effects, LCD projector & an 8-foot video screen. The length of the show is usually customized to your specific needs and can be anywhere from 10 min to a 90 min power performance. To see excerpts from the show, please visit our Video Page.
For more information about Yeeri's Grand Illusion Show please contact Vancouver magician Yeeri at 604-306-6229 or send an email.