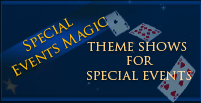 Vancouver Canucks Invite Yeeri To Perform at GM Place
Read more »
CIBC Engages Vancouver Magician Yeeri For a Series of Grand Openings Of Their New Bank Branches
Read more »
Vancouver Celebrity Magician Performs For NBA Superstar Steve Nash
Read more »
Vancouver Canucks Invite Yeeri To Perform at GM Place
As a part of their Fan Appreciation Day, Vancouver Canucks engaged Yeeri's services to entertain some of their fans at GM place on Dec. 12, 2009. Quite frankly it's not everyday that Canuck fans would expect to see amazing magic as a part of their hockey experience, but judging by their response, Yeeri's appearance was a big hit!
Selected cards were found in the most unexpected places, the minds of fans were read and even some watches were returned to the astonishment of their owners who had no idea that they were missing in the first place!
The Canucks' invitation for Yeeri to come to the Fan Appreciation Day came after Yeeri performed for Canucks' CFO Todd Kobus at a private party at his home.
"I am very pleased to add the Canucks to my client list and I can finally check off GM Place as one of the places where I have performed", says Yeeri with a grin.
CIBC Engages Vancouver Magician Yeeri For A Series of Grand Openings Of Their New Bank Branches
As a part of Western Canada's expansion, CIBC bank engaged Vancouver magician Yeeri to entertain at several recent grand openings of their new bank branches in BC. Yeeri performed his mind blowing close up magic for hundreds of adults and children.
As magician Yeeri says: "Nothing beats seeing magic up close and personal, when the magic happens right in their hands, literally in front of their eyes! Compared to a theatrical performance, the "real world" of close up roving magic really rocks!"
The big draw of the grand opening was the presence of former Vancouver Canuck star Trevor Linden who visited the branch for photo opportunities and autograph signing for his fans. Some fans waited up to 2 hours to get their memorabilia signed, but it was definitely worth it. Overall this event was definitely a huge success!
Vancouver Celebrity Magician Performs For NBA Superstar Steve Nash
Just recently, the residents of Richmond, BC were enthralled as they watched Steve Nash throwing hoops as a part of the Grand Opening of the latest Steve Nash Sports Club. To help enhance the atmosphere of the event, Steve Nash Sports Club hired Vancouver Celebrity magician Yeeri to perform in the VIP room for many business leaders and celebrities, including Steve Nash himself. Yeeri successfully read the mind of the two-time MVP award-winner as approximately 20 different media crews including CNN looked on.
The state of the art 55000 sq.ft. facility has integrated green design to create a new kind of fitness club. From bamboo floors and locker panels to rubber flooring made 100% from recycled car tires and energy efficient lighting and appliances, the Steve Nash Sports Club has created a healthy workout environment with a positive impact on the community.