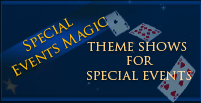 Vancouver Canucks Invite Yeeri To Perform at GM Place
Read more »
CIBC Engages Vancouver Magician Yeeri For a Series of Grand Openings Of Their New Bank Branches
Read more »
Vancouver Celebrity Magician Performs For NBA Superstar Steve Nash
Read more »
Celebrity References

"This is crazy... Unbelievable, very good!!"
Pat Quinn, Head Coach of Edmonton Oilers, NHL

"I don't know how you do it but you definitely have a gift!"
Stu Jackson, Executive Vice President, NBA

"...He got my watch!"
Ujjal Dosanjh, Former Premier of BC

"You Are Magic, You Are Awesome!"
Wally Opal, Attorney General of BC
I would like to sincerely thank you Yeeri for participating in CBC Summertime Plaza and contributing to it's success! It was fun to see your twist on a magic show. Magic is not just for kids!"
Jennifer Bender - Special Projects Manager, CBC Television
"Amazing! This is a show you will enjoy!"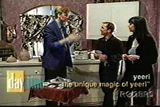 Linda Cullen & Bob Robertson - Double Exposure - VTV, CBC, Comedy Channel
"His performances of magic have impressed everyone here...guests and staff alike. Shows on stage, mini shows or table close up magic are all success with Yeeri."
Chris Keeley - Resort Manager, CLUB MED - Sonora Bay, Mexico
"I have seen crowds cheer and moan with excitement and disbelief as Yeeri performs magic and sleight of hand. We get compliments all the time about how amazing he is. He can do things that constantly amaze me and I get to see him every weekend."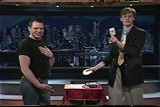 Chris Dobson - Manager, The Roxy, Vancouver's Premiere Cabaret
"We at Lufthansa have been happy to have Yeeri attend a number of our corporate events and are always extremely amazed and entertained. He is guaranteed to put on an excellent, top notch performance. I feel confident that Yeeri will be able to do a fantastic job for all of your events..."
Peter Kargl, Promotional Manager, Lufthansa German Airlines
"Thank you for performing at our party. Your appearance certainly added magic to the evening!"
Diane Heubart, IKEA Richmond
"The management, but first of all the clientele positively acknowledged your talent and admired your performances every Saturday night for the last 6 months. Your personality was very pleasant, your attitude polite and overall you brought some extra class to our establishment. Thank you very much!"
Michael Karolyi, Manager Frisco's Inn
"On behalf of our club I'd like to acknowledge the incredible talent of Yeeri. He performed in our club for about two months. In that time, he amazed dumbfounded patrons and staff alike with his sleight of hand tricks that could only be called "magic". He is professional and I would not hesitate to recommend him to anyone!"
Todd B. Carey, The Steel M, Operations Manager
The following is a list of recent clients who have experienced The Magic of Yeeri:
BLUE HORIZON HOTEL VANCOUVER
ABC RESTAURANTS
CONNELL & LIGHTBODY
LANSDOWNE PONTIAC
YALETOWN BREWING CO.
CLUB MILLENNIUM
LONE STAR CAFE
TGI FRIDAY'S
TERRA NOVA
SHOPPING CENTRE
NEW HOME NETWORK LTD.
WOODWORK ASSOCIATION OF BC
PENTCO INDUSTRIES LTD.
NAVAIR CHARTER
BANKER'S DISPATCH LTD
SEAGULL FURNITURE INC.
FORBO INDUSTRIES
HAGEN'S TRAVEL
GAULTS SPORTSWEAR
FRINGE FESTIVAL VANCOUVER
OLD SPAGHETTI FACTORY
HOTEL VANCOUVER
PAN PACIFIC HOTEL
CHATEAU WHISTLER
CBC TELEVISION
VANCOUVER TELEVISION
ROGERS CABLE
GRANVILLE ENTERTAINMENT
HARBOUR CRUISES
ROCK 101, CFMI
CLUB MED
97 KISS FM
STAR FM RADIO
ROYAL BANK OF CANADA
IKEA
SHERATON HOTEL
LUFTHANSA GERMAN AIRLINES
CHEVRON CANADA
FUTURE SHOP
McDONALD'S
PHILLIPS, HAGER & NORTH INVESTMENT MANAGERS LTD
BASKETBALL BC
CIBC
BANK OF MONTREAL
AMERICAN EMBASSY IN PRAGUE
and dozens of others